Charged With Battery? Our Wheaton, IL Lawyers Can Help.
While "assault" implies you threatened to harm someone, "battery" indicates you actually did so. Battery occurs in various contexts, including domestic battery. But bar fights and road rage incidents are also common.
Simple battery is a violent crime. This will be on your record for employers, landlords and educational institutions to see when you apply.
While the charge may be only a misdemeanor, take it seriously. Depending on circumstances such as a weapon used, or your actual intent to do harm, the charge could amount to a felony.
Take it seriously from the start; don't make a statement to police before calling our law firm. We will advise you of all of your rights, your legal situation, and your options.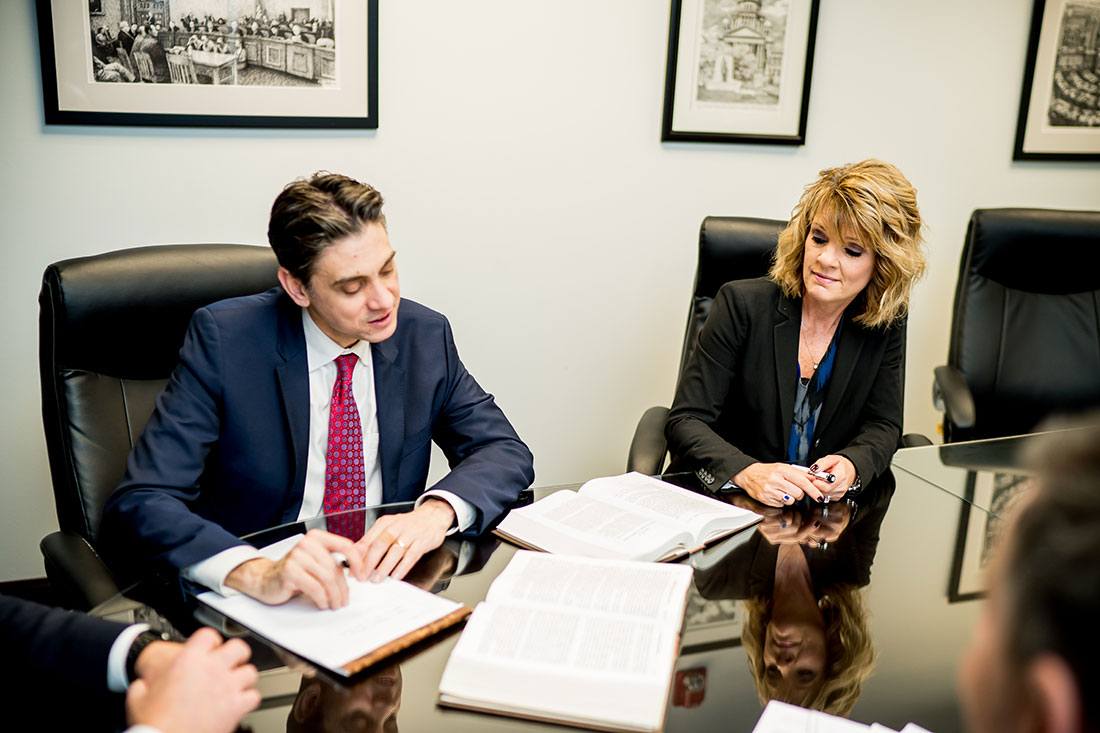 Domestic Battery
Aggressive Domestic Violence Defense Lawyers in Wheaton
Allegations of domestic violence are complicated matters. If you are facing domestic battery or abuse charges, the overall consequences can adversely impact your lifestyle for years to come. A conviction for family or domestic violence can affect your ability to see your children, your job and your right to own a firearm under federal law. Even for misdemeanor offenses. The real-world impact can extend far beyond the stiff fines and potential for jail or prison time on a misdemeanor or felony domestic battery offense. With the stakes so high, it is critical for you to have a seasoned trial attorney in your corner who knows how to prepare and present a compelling defense in these highly emotional situations.
Let a Team of Former Prosecutors Analyze Your Case from Every Angle
At Marquardt & Belmonte, P.C., we provide tough criminal defense for individuals charged with domestic assault. All six of our DuPage County, Illinois, domestic battery lawyers are former felony prosecutors who use their broad perspective of the criminal justice system to protect the rights of clients in the Wheaton, Illinois, area. We know how law enforcement and prosecutors build their cases.
We have extensive experience handling domestic battery cases. In striving to minimize the impact of the charge on your life, we will:
Thoroughly review the circumstances leading to your arrest

Examine all evidence against you

Work to stop the order of protection from being issued against you

Seek to get charges dropped
Many domestic abuse cases involve he said, she said disputes. We are able to analyze the evidence from every angle to find the flaws and weaknesses in the prosecution's case to obtain the most favorable outcome possible. Call 630-871-1100 now to arrange your free initial consultation.
When law enforcement responds to a domestic disturbance call, the officer is obligated to make an arrest if there is any indication of injury. Even if the person who called the police made a false accusation and does not want to press charges, the prosecutor will move forward with the case because of Illinois' no-drop policy.
Strong Criminal Defense Against Battery Charges In DuPage County
Ideally we avoid charges being filed. If the case against you is weak, and the prosecutor is reasonable, we can negotiate successfully on your behalf. You could face penalties including fines, jail time and inconveniences you can only imagine, such as a required anger management class. We seek to reduce charges and penalties.
Finally, if you feel, after speaking with our lawyers, that a trial will yield the best outcome for you, we are quite ready and able to handle it for you. We are former felony prosecutors with a total of 115 years combined experience.
Contact Our Skilled Attorneys
To schedule a free initial consultation, contact us online to speak with a Wheaton, Illinois, personal injury attorney, or in Chicago or locally call our office at 630-871-1100 or toll free at 888-349-0695.
Our office is conveniently located near the courthouse in Wheaton, Illinois.
We are available for evening and weekend appointments.
Credit cards are accepted.
William Belmonte and his team was a beacon of hope to me and my family during a time when my options seemed limited and the likelihood of a satisfactory resolution seemed impossible. I was facing serious consequences, which Mr. Belmonte was able to bring from a maximum sentence to a minimum, and help get my life back in order. In addition, his calm, honest, and upfront demeanor offered emotional support to myself and for those I care for most. My family and I are eternally grateful for Mr. Belmonte service and I highly recommend his law firm.
– S.B.
Put decades of
EXPERIENCE, SKILL & SUCCESS
to work for you.
Schedule your free consultation today.
If you would like to know more about how our firm can help with your case, we invite you to give us a call at 630-871-1100 or fill out the form below.